Onthulling gedenksteen voor de bemanning van bommenwerper Lancaster AJ-K 617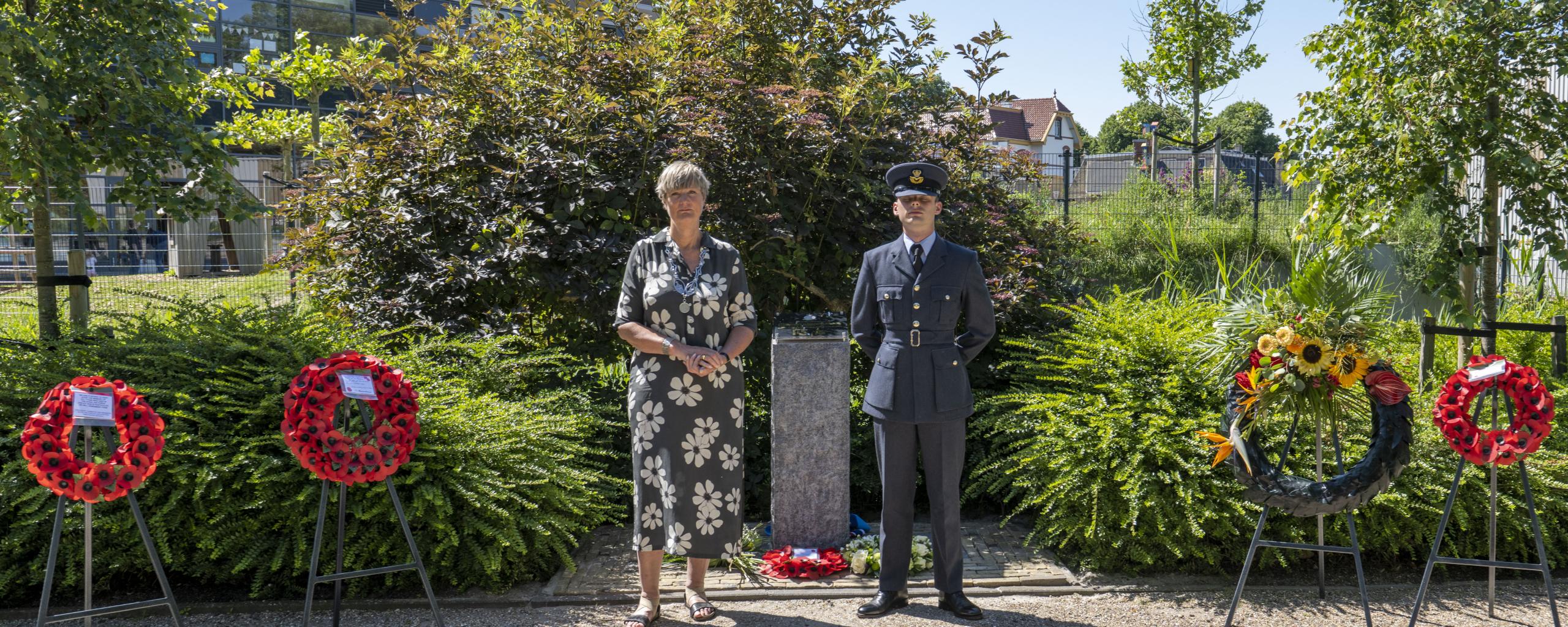 Donderdagmorgen 23 juni is op de Algemene Begraafplaats in Harlingen de achtste en laatste gedenksteen ter nagedachtenis aan operatie Chastise onthuld.
De gedenksteen is geplaatst voor de bemanning van bommenwerper Lancaster AJ-K 617 die op 16 mei 1943 bij Texel werd geraakt en neer kwam in de Waddenzee. Alle zeven bemanningsleden zijn hierbij om het leven gekomen.
De burgemeester vroeg in haar toespraak aandacht voor het verleden, maar ook het heden. Voor de oorlog in de Oekraïne waar ook nu weer mannen en vrouwen slachtoffer van worden en zijn.
Hieronder vindt u de toespraak zoals gehouden door burgemeester Sjerps:
On behalf of the municipality of Harlingen a warm welcome to all our guests on this very special occasion, when we commemorate seven brave young men who died, 79 years ago, on a mission to destroy dams in Germany, our then enemy.
A very special welcome to the relatives of these audacious aviators. We are honoured to have you here as our guests and hope that you will take home with you the knowledge that these young men are not, and will not be forgotten, in the country where they fell. The plaque we will soon unveil will keep their names and lives in our memories and we will pay homage to their sacrifice, every 4th of May, our Remembrance Day.
A special welcome too, to mr Brad Duesbury from the British Embassy in The Hague. The Netherlands will always honour the friendship and solidarity the United Kingdom showed us in the dark days of World War II.
Natuurlijk ook, welkom, alle Nederlandse gasten en Harlinger geïnteresseerden. Fijn dat jullie met mij deze zeven mannen eer willen bewijzen.
And last but not least, a welcome and sincere thanks to Jan and Marielle van Dalen who, with their incessant efforts, made today's ceremony possible.
In preparing for today's event, I studied the pictures of these young men. As a mother of two men of about the same age as these seven soldiers, I found it heartbreaking to see their young, optimistic faces. How hard it must have been for their mothers, to say goodbye to them, not knowing whether, when or how they would see their sons again. And then, learning about their fate. Six of them, never to be found again. Only one of them, James McDowell, found, and buried in a foreign country, in our town.
Their lives were not lost in vain, as they helped end the Second World War and start a long period of peace and prosperity in Europe. But as we experience today, to our great regret, this period did not last long enough. Once again, there is a war going on in Europe. A war we never expected and were unable to prevent.
Too often, the lives of men and women are sacrificed for the delusional and criminal ambitions of autocrats and dictators, supported by their indoctrinated nations. The dreams and aspirations of generations shattered for the ego's of leaders.
We will mourn the deaths of the present war another day. Today, we mourn these seven young soldiers.
Quoting Ernest Hemingway: "Every man has two deaths, when he is buried in the ground and the last time someone says his name. In some ways men can be immortal."
Contributing to the immortality of these seven men, let me say their names:
Pilot Officer Vernon William Byers, from Star City Saskatchewan, Canada. Age 23.
Sergeant Alastair James Taylor, from Alves, Morayshire, Scotland. Age 20.
Flying Officer James Herbert Warner from Horncastle, Lincolnshire. Age 28.
Sergeant John Wilkinson from Antrobus, Cheshire. Age 21.
Pilot Officer Arthur Neville Whitaker, from Blackburn, Lancashire. Age 33.
Sergeant Charles McAllister Jarvie from Glasgow, Scotland. Age 21.
Flight Sergeant James McDowell from Glasgow, Scotland. Age 32.
May they never be forgotten.
Video van de onthulling: 
Door Clemens van der Zwet